GET THE CREDIT YOU DESERVE
You have challenged yourself by taking a college-level course. More than that, you were successful in the class! Don't you think you deserve a reward for all the hard work you put into your advanced class? We, at UC, think you do! This issue of U-Mail is about getting credit where credit is due. In other words, it outlines the guidelines for receiving credit at UC for an AP, IB, or college level courses.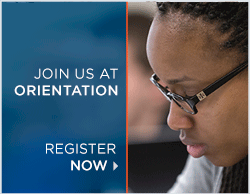 SIGN UP FOR
ORIENTATION!
First-Year Orientation
Sessions are
August 28- 30

Transfer Orientation is
June 24
July 29
August 12


Reserve your place now!
---
MISSED AN ISSUE?

Visit the

U-Mail Archive



Firstly, we will need complete academic records for your file before you get started at Utica this Fall. Be sure to send us the following to complete your admission and student file before you come to Orientation for freshman and as soon as possible for transfer students. This includes:
A final high school transcript with a seal and/or signature. This should come directly to Utica College from your high school. Contact your school counselor today and ask that this be sent.

AP Credit. Did you take AP classes in high school? Please contact the College Board to have your AP score report sent to Utica College. You can complete this online at https://apscore.collegeboard.org/scores?-ST=


IB Credit. Did you earn IB credits in high school? If so, you can contact the International Baccalaureate Organization at http://www.ibo.org/

College Transcripts. Whether you are a high school student who has taken college-level courses in high school or a transfer student, Utica College requires a final official college transcript in order to award credit. Please ensure that we receive all official college transcripts (sent to Utica by your prior school) as soon as possible to ensure we have time to review this credit.
HAVE QUESTIONS? CONTACT US.

Office of Admissions

Location:
122 White Hall, Utica College

Phone:
1.800.782.8884

Web:
www.utica.edu/admissions


---
NEXT ISSUE:
Registration